Profession of Love
Maybe he was inspired by Valentine's Day. Maybe because I hadn't seen him for a while, I'll never know. But he finally said it to me. I know he's felt it for a long time, but until yesterday he hadn't managed to say the words. It's funny what a difference it can make when someone finally finds the words. You may know they care about you, you may know you're in a serious relationship, but until the words 'I love you' are spoken, something is missing.
We were just hanging out. It was the late afternoon and we were sitting across from each other drawing on the large white board that covered the whole surface of the small table between us. We were so focused on our lines and colors, so physically engaged by our co-creation that sometimes our heads would nearly touch as we leaned in to fill the white space. He was into large and quickly repeated purple circles. I was focusing more on smaller orange and red highlights. We would draw with our erasable crayons for a while, then he would decide it was time to clean the board. I let him take the lead.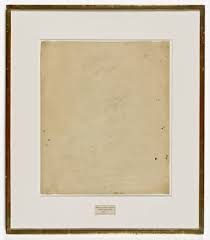 He began to notice that the color trails left by the crayons on the board would actually color the damp paper towel that he used for erasing. I suspected, as he vigorously wiped away lines and images, that he was investigating the transitory nature of life as well as the surprising possibilities of the conservation of matter. I myself was pondering the de Kooning drawing that Rauschenberg erased in 1953 and is still on display at the San Francisco Museum of Modern Art. We kept our thoughts to ourselves and I wondered if our erased white board was perhaps the best display of the ocean of feelings between the two of us. But I digress.
I was singing softly as I drew. Sometimes I would stop and he would happily demonstrate his knowledge by filling in a word or two. For some reason, I was inspired to render a very slow version of that perennial classic 'Twinkle, Twinkle Little Star.' Other people were in the living room with us, but they were reading or computing or doing something. 'Up above the world so high.' In my mind, our simple activity filled the universe, drawing and singing and being together. 'Like a diamond in the sky.' Of course we are not special, thousands and millions of humans are enacting this ancient drama of care and creation at each moment, yet the mystery and preciousness of it all. 'How I wonder what you are.'
I finished and paused and looked at my grandson—a small miracle of universal proportions. In the silence, he looked up at me and said 'I love you.' Softly. And I said, 'I love you too.' Softy.
Having spoken our truths and exposed our deepest feelings, we went back to drawing and erasing and singing as if nothing had happened—as if we had not both been forever changed by this one passing and indelible moment.