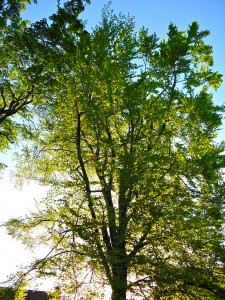 May third, six a.m. I'm happy to be up early and writing again. The rhythms of my 'normal' life seem to have a new liveliness after our three-week meditation retreat here at the Temple.
Everywhere I look the fullness of early spring sprouts forth. The many Temple trees are now covered with green filigree as their future leaves materialize out of thin air.
Where were those leaves hiding throughout the cold winter? When the snows came and weighed down the branches how did these tender beings survive? Were they wintering in some other universe?  I imagine little leaf people lying on warm beaches in other worlds – talking about how lovely it is to be away from the daily grind of hanging from a tree, but at the same time kind of missing it. They sip alcoholic drinks and get woozy – make sloppy love with each other in some esoteric leafy kind of way. And perhaps they eventually get bored and begin to long once again for the high breezy places.
Do they each get an assignment? Planet earth. Worcester, Mass. On the top branch of the katsura tree in the back of a Boundless Way Temple. Maybe there's excitement—'Have you ever been a katsura leaf before? It's a great opportunity. Don't forget to make that graceful heart-shape as you sprout out. And you can sprout right from the branch, no need to wait for a growing tip. And here's how to make that lovely smell – a little like cinnamon or nutmeg – not too much – just enough to make the Zen people wonder as they walk below.'
That's probably what happens.
Anyway, they are back now. Emerging and blossoming.  Sprouting golden green and lacy from the dry brown solidity of wood—an impossible feat repeated endlessly as if it were the most normal thing in the world.
This astonishing miracle of life is hidden in plain sight – everywhere abounding – everywhere present. In the mustard weed that I pull incessantly with some annoyance to these magnificent trees that grace the Temple grounds. While we humans too often spend our days conjuring a landscape of worry—forgetting that, like the countless leaf beings, we too have sprouted forth from some utterly mysterious place—that we are indeed infinitely lucky to be hanging from whatever branch we find ourselves today.